ORGANIZATION
Organization
In 2019, Mitsuchi, the company having the functional elements of a trading company, merged with Mitsuchi Kasugai, the company with manufacturing functionality. This has further solidified our grounding as an integrated enterprise having high levels of both sales and technical capabilities. Our overall organization, including its production system of high quality thanks to three overseas bases, is capable of optimal response to customer needs.
Combining the function of both trading and manufacturing
We carry out higher quality proposal sales based on the synergistic effect of our sales and technical capabilities cultivated so far. We realize speedy and flexible production response to customer's request. In addition, by making full use of the trading company functions, we can provide products that cannot be produced by Mitsuchi.
By asking corporates companies for technologies that we do not have, we can reliably provide products that meet the needs of our customers.
Mitsuchi Co., Ltd.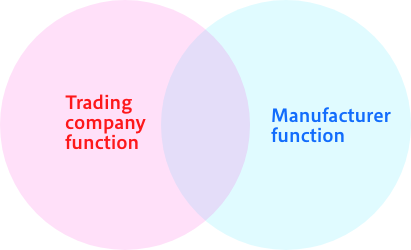 Leveraging our own unique technology and expertise to accommodate customers with a wide range of products, including custom designs
Achieving volume manufacturing that is efficient, including in terms of cost, through our four production bases in Japan and overseas
Overseas Production Bases Boasting High Quality
We have been pressing ahead with manufacturing and sales overseas for over 30 years – since 1987 in Thailand, since 2001 in the U.S.A., and since 2010 in China – establishing a system that makes possible local procurement of high quality. Thanks to this, we carry out optimal manufacturing at the optimal location, regardless of whether in Japan or overseas.
Thai Mitchi Corporation Ltd.

Mitsuchi Corporation of America

Mitsuchi Suzhou Corporation